A Piece That Is Unique To New Bedford': Bronx-Based Artist Brings New Exhibition To Star Series
Bronx-based multimedia artist Art Jones is already exploring the area as he collects visual and sounds to be featured in his upcoming new exhibit. Presented by UMass Dartmouth College of Visual and Performing Arts, this collaboration between 3rd EyE Youth Empowerment is sure to be an experience like no other.
Letter: Human Rights Day marked in New Bedford as local people, groups honored
December 10, 2020 commemorates the signing of the Universal Declaration of Human Rights 72 years ago in 1948. The Declaration proclaimed all inhabitants of this world should be respected regardless of their race, skin-tone, gender, age, and country of origin, language, religion, personal persuasion, abilities, political opinion, property or social status.   We know that respecting all these rights has been very hard to achieve.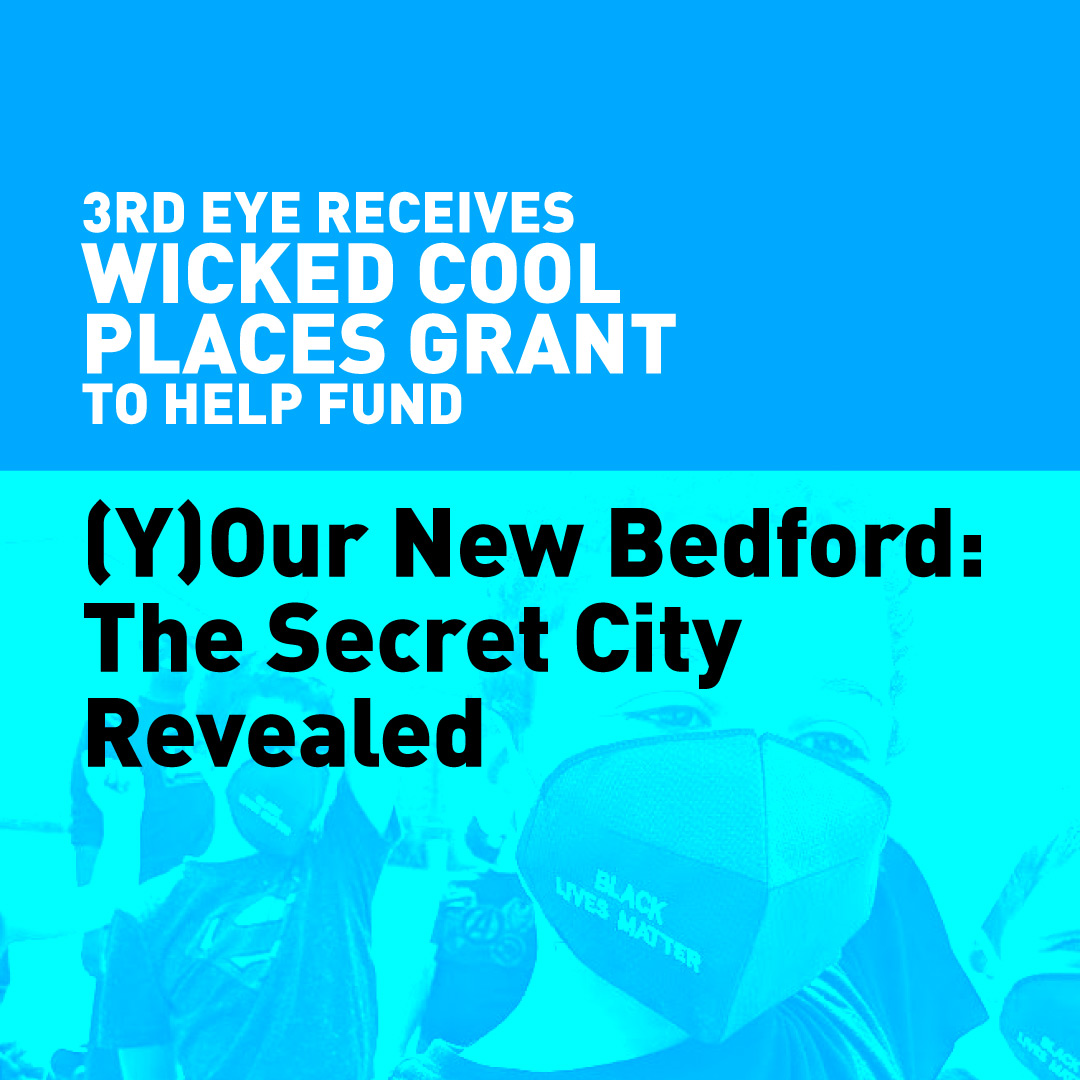 February 15, 2021
Contact: Margo Saulnier
[email protected]
617-359-2409
NEW BEDFORD CREATIVE ANNOUNCES
2021 WICKED COOL PLACES GRANTS
#NBcreative invests $50,000 in creative placemaking projects
NEW BEDFORD, MA  — This year's Wicked Cool Places arts and culture grants have been selected in a signal that City of New Bedford artists are ready to prepare for a post-pandemic future.
Wicked Cool Places is New Bedford Creative's grant program for creative placemaking. It is funded by the City of New Bedford's Arts, Culture + Tourism Fund, with additional funding by Bristol County Savings Bank. It was fully launched in July, 2019, shortly after the New Bedford Creative Consortium was formed under the city's first-ever arts and culture plan, which debuted in December 2018.
New Bedford Creative Strategist, Margo Saulnier explains, "Creative placemaking has never been as important as it is now. As we continue to adjust to life during a pandemic, placemaking helps ensure that we remain connected as a community. The recipients of Wicked Cool Places will make that possible in engaging and meaningful ways."
The New Bedford Creative Consortium is an all-volunteer membership body that meets quarterly and is divided into three Squads: Public Art + Facilities, Placemaking + Community, and Fundraising + Distribution – the final squad being the members who evaluate proposals for projects from New Bedford creative residents.
This year, they have awarded grants to the following projects: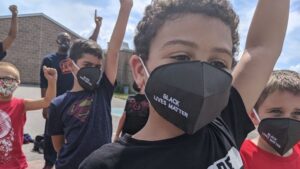 3rd EyE Unlimited, $9,000 – (Y)Our New Bedford: The Secret City Revealed draws upon the YourNB framework the group pioneered last year paired with a concept rooted in 3rd EyE's history.
Secret City is the idea that New Bedford contains hidden cultural treasures. (Y)Our New Bedford: Secret City Revealed will consist of four interlocking complementary components, drawing upon the creativity and energy of multiple members of the 3rd EyE team. (Photo of 3rd EyE youth dance workshop courtesy of 3rd EyE Unlimited)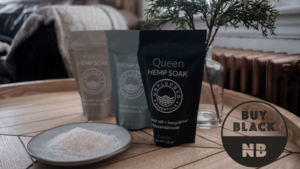 BuyBlackNB; Justina Perry, $6,000 – BuyBlackNB seeks to connect consumers with Black-owned businesses across the SouthCoast. In an effort to continue supporting Black-owned businesses, the group will host an outdoor market in downtown New Bedford's Custom House Square. There, all people are invited to come purchase goods and services from BIPOC (Black, Indigenous, People of Color) Owned Businesses in a safe and inclusive place.
"In supporting Black-owned businesses, we are working to close the racial wealth gap, strengthen our local economies, foster job creation, and celebrate Black culture," they write. (Photo of Unplugged Essentials products courtesy of CEO Kevin Rose Jr. & BuyBlackNB)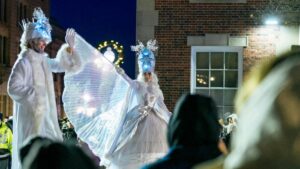 Downtown NB, Inc., $6,000 – Downtown New Bedford, Inc. (dNB) will coordinate a series of seasonal placemaking events in partnership with downtown attractions – shops, restaurants, museums, nonprofits, and other establishments – to draw residents and visitors to the city.
Artists, musicians, and performers will be hired for each event, and each will celebrate New Bedford's unique culture and sense of place, enhancing residents' quality of life and encouraging the support of the local economy. (Photo of 2019 dNB Holiday Stroll by Josh Souza for New Bedford Creative)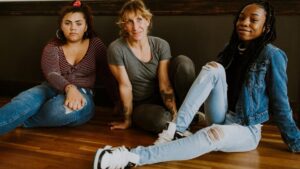 Good Company NB; Juliet Loranger, $3,200 – The teen Yoga Project entitled teensXyoga intends to inspire the last stage of the Creative Courts project at Clasky Commons Park – completing the mural on the walls surrounding the court.
The Creative Courts project is based on dialogue between locals and the artist, Marie Molteni, and teensXyoga plans to ignite conversation in the space while practicing yoga, meditation, journalling and communication. They will record inspirations and stories throughout the series of four sessions and present them to the artist and her team before she begins the final stages of painting. (Photo of teensXyoga team courtesy of Good Company NB)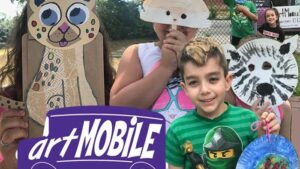 New Bedford Art Museum (NBAM/ArtWorks!), $7,400 – The NBAM/ArtWorks! artMOBILE will continue to be a traveling creative placemaking locale where youth will engage in artistic and inventive instruction with quality art supplies.
This year, it will be incorporating mediums and materials that highlight the Museum's tour de force summer exhibit which will feature Ruth E. Carter, Academy Award-winning costume designer of Black Panther, Malcolm X, Amistad, Do the Right Thing, and other outstanding motion pictures. NBAM anticipates up to 650 youth to be served by this free and accessible program. (Photo of artMOBILE courtesy of NBAM/Artworks!)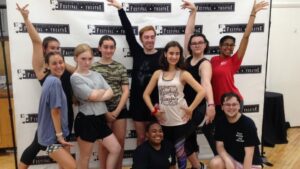 New Bedford Festival Theatre, $3,000 – New Bedford Festival Theatre's Summer Academy will offer its third year of performance opportunities for teen artists – with a helping of social justice theatre. The focus for the Summer Academy 2020 production will be a piece of theatre that allows for diverse casting that is representative of the New Bedford community.
"In this volatile and tense climate, NBFT sees the importance of theatre as a safe haven for expression and freedom and growth," the group states. (Photo of 2019 Summer Academy students courtesy of NB Festival Theatre)
New Bedford Symphony Orchestra, $7,400 – 'Music in the Streets' (MITS) will enable the New Bedford Symphony Orchestra (NBSO) to collaborate with a number of organizations, bringing music to streets and outdoor locales across the city.
Collaborations will include partnerships with Love the Ave, New Bedford Housing Authority, New Bedford Parks, the Cape Verdean Association and others.The goal is to perform 10+ concerts across the city in 2021. (Photo of NBSO musicians in Custom House Square courtesy of NBSO)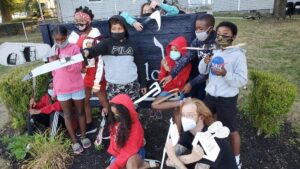 New Deadford; Fitzcarmel LaMarre, $3,000 – "NEW DEADFORD" is a multifaceted, community inclusive project based on a graphic novel telling the rich history of New Bedford through the lens of a zombie apocalypse.
Part of the project entails robust community outreach, working with underserved youth at creative arts workshops, in collaboration with 3rd EyE Unlimited, Our Sisters School and the New Bedford Housing Authority. (Photo of New Deadford creative arts workshop courtesy of Fitzcarmel LaMarre)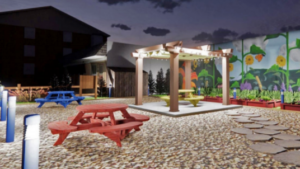 UMassD CVPA Interior ​Architecture + Design, $5,000 – This project seeks to revitalize the park space at the corner of Phillips Avenue and Acushnet Avenue – the Phillips Ave Pocket Park. Currently, the park lacks adequate shade or shelter structures, lighting, interactive elements, and recycling and trash receptacles.
"The addition of these elements in the space will make it more appealing for community members to use during times of more extreme weather conditions (hot sun, rain, snow) and during the evening hours, if adequate lighting is provided," they note. This proposal is a continuation of the design proposals developed by University of Massachusetts Dartmouth Interior Architecture + Design (IAD) students in Fall 2020. The faculty member, Stephanie McGoldrick, began this endeavor as a service-learning project for CEDC (Community Economic Development Center) on Acushnet Avenue in New Bedford. (Photo of Pocket Park maquette courtesy of Stephanie McGoldrick)
Follow the journey of all these projects and learn more about "Our art, Our culture, Our future" at NewBedfordCreative.org.
About New Bedford Creative Consortium
The New Bedford Creative Consortium is the leadership group who oversees the execution of the citywide strategic Arts and Culture Plan entitled New Bedford Creative: our art, our culture, our future, published in December 2018. The Arts and Culture Plan is a huge step forward in building a thriving creative ecosystem in our city, and these are the people dedicated to implementing it. This volunteer group is facilitated by the Creative Strategist with additional staff support from the NBEDC and City Departments of Planning, Tourism, Parks Recreation and Beaches, and the Mayor's Office.
From 2018-2020, New Bedford Creative leveraged the $300,000 from the City's Arts, Culture and Tourism Fund, for an additional $745,000 from Bristol County Savings Bank, MassDevelopment, The Barr Foundation, Massachusetts Cultural Council, and Wicked Cool Places' grantees. For more information, visit NewBedfordCreative.org.